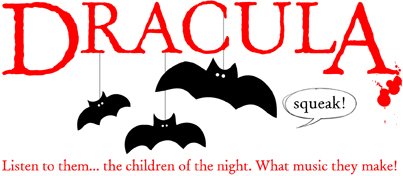 REVIEWS
The best compliment you can pay to this one man performance of Dracula is that it never feels like a one man show. The whole story is here, delightfully played, with a few welcome twists along the way and a newly crafted haunting ending that fits perfectly.
Read more
Stephen M Hornby, The Reviews Hub

It must be difficult to hold an audience in the palm of your hand, enticing them into your supernatural world, hypnotising them to make them hang on to your every word and then to break the spell by making them laugh. David managed it and he cast his spell on us.
Read more
Kev Castle, Theatre Reviews

This 'Dracula' is one of the best I have seen because it excels at what Dracula does best – it conjures up the audience's imagination and then plays with it mercilessly; and in this instance, hilariously. And bearing in mind it's all done by one man with just half a dozen blood-red and moon-glow lights and a handful of home-made props, it is quite brilliant.
Read more
Chris Eldon Lee, Shropshire Events

David Mynne left his audience mesmerised as he transformed from character to character in this one-man-show of Dracula. By using self-made sound effects, a handful of props, and minimal self-operated lighting, David Mynne was able to effectively absorb the crowd and reignite imaginations.
Read more
By Kate E Hodge : kateehodge.com

It's a terrific show, charming, funny, beautifully told, and suitably scary. Stoker's gothic novel has been perfectly pared down... Mynne's performance is exquisite: a masterclass in the telling of tales, it needs to be seen.
Read more
Ciaran Clarke: Arts End of Nowhere

Historically, dramatic storytelling was something which pulled communities together and was the original form of theatre. It was refreshing to see storytelling reborn in this way and I think it is something that really inspires a small intimate audience.
Read more
Becky Bye: domoremag.com

...this was a dramatic masterclass and he was magnificent. Not to be missed, you'll be sorry if you do.
Read more
Frank Ruhrmund: The Cornishman

Grampound village hall was packed to the rafters for the opening night of Rabbit Theatre's Dracula. Wildly eccentric, totally bonkers and saucily scary, David Mynne's magnificent one-man performance is flawless. Brilliantly directed by Simon Harvey, Dracula will thrill audiences of all ages. Add this show to your bucket list for 2015.
Sheila Vanloo: Radio St Austell Bay

Excellent performance – had the audience laughing and spellbound in equal measure.
Rural Touring Promoter

The show was one of the best we have seen from VIA and how one performer could play multiple parts, with limited props and their own sound effects, was amazing.
Rural Touring Promoter

Dave was fantastic, I am already looking forward to seeing what he does next – brilliant!
Audience email

Great use of small space. Every prop used in the story telling took on a purpose and meaning for the audience, David's comic timing is outstanding. Each of his many characters was quickly established for us by an object, change in physicality or imagined place. David carried us with him every step of the way. Nothing needed to be explained, through his versatility as a performer we were moved swiftly from Dracula's castle, to night to day and back again in a matter of moments.
Audience email

During the second half as I was pondering where one of the characters from the first half had disappeared to, boom, back he came exactly where Dracula had left him, falling from the castle window. Every element of the play had been well written, planned, rehearsed and shared with generosity. The whole show was truly entertaining, really funny and performed with great skill. I think I can safely say we, the audience felt very secure in the presence of Mr. Mynne and happy to have popped along to the show.
Audience email

It was a BRILLIANT show, we all really enjoyed it, such wonderful value as well, we are all looking forward to his next performance!
Audience email

Thank you for yet another superb evening of entertainment, this man is so thorough in his work, he is totally absorbed in the role/roles he is playing. Please let us know when you have another evening through VIA
Audience email

A riveting creation performed by the inimitable David Mynne. His shows are always completely original because his understanding of theatre is so wise.
Audience email