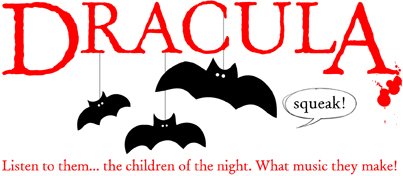 Beware. He is coming. Keep your windows locked and gather in the garlic!.

The team that brought you the award-winning 'Great Expectations' have got their teeth into Bram Stoker's classic tale of the vampire. Writer Andrew McPherson, director Simon Harvey and "outrageously versatile" actor David Mynne bring you a one-man performance of Dracula.

Blood and bats. Garlic and gore. Lunatics and flies. Sexy lady vampires. Coffins, crypts and the Count himself. They're all here in this brand-new adaptation of Bram Stoker's gothic pot-boiler..

Be warned: this monstrous, disturbing (and completely batty) tale of dark deeds and the Un-dead, will thrill and seduce you!

Suitable for adults and older children (12+)


Original story by Bram Stoker
Initial adaptation by Andrew McPherson
Script by Simon Harvey and David Mynne
Directed by Simon Harvey
Performed by David Mynne






Mynne's performance is exquisite: a masterclass in the telling of tales, it needs to be seen.
Ciaran Clarke: Arts End of Nowhere