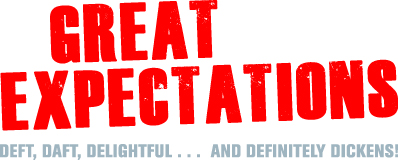 REVIEWS
In the same week I saw one of the country's great thespians stumble slightly at the HFC, one of our own showed how it really should be done. Kneehigh founder and owner of the world's most malleable face, David Mynne, presented the final Cornish date of his extraordinary one-man take on Dickens' Great Expectations. Brilliantly and subtly directed by Kneehigh / o-region leading light Simon Harvey, you really need to tell friends and family about the show when it visits other parts of the country this month. With just a suitcase, bowler hat, tiny forge, candlestick, mirror and some cloth, Mynne tells the gothic tale of Pip's journey through life and his great expectations at the hands of a mystery benefactor. Expertly edited from the original text, he portrays everyone from the terrifying Magwitch, kindly Joe Gargery, eccentric Miss Havisham, the cold and beautiful Estella, pompous lawyer Mr Jaggers and Pip's wise and spluttering friend Herbert Pocket. Providing all the sound effects himself, Mynne traverses the difficult line of staying true to the story but adding some modern-day anarchy, thanks to his natural ability for physical comedy. You would never believe the creation of a pair of invisible handcuffs could be quite so hilarious. Yes, it's funny but also compelling and as strangely spooky as the original tale. Once you've seen Mynne in full force, you'll want him to tackle your favourite tome. Imagine – a one-man Vanity Fair, A Clockwork Orange or Fifty Shades of Grey. Actually, don't imagine the latter ....

Mesmerising theatre at its best from a legend of the Cornish scene, plans are already afoot for his next solo outing in 2014. I, for one, cannot wait.

WILDFIRE Critics' Choice Award - Exeter Ignite Festival 2013

As Dickens' novel is jam-packed with well-drawn characters and exquisite descriptive language, I was intrigued to find out how David Mynne's one-man show at The Hour Glass would convey the depth and colour of this elaborate tale. From the moment he steps into the performance area, Mynne makes the audience believe in every character and event completely, using just a few props pulled from a battered suitcase, his body, voice and facial expressions. Every character not only has a distinct intonation, but also physical attributes, which Mynne slips in and out of seamlessly. Estella is portrayed by a mirror, which works startlingly well, whilst Miss Havisham is a cream veil that takes on a life of its own, particularly in the harrowing scene where the tragic lady burns. Mynne also uses his fingers as characters in 'micro scenes' to depict Pip running through the marshes or a passionate embrace between Miss Havisham and her cruel-hearted beau. Whether he's conjuring a crow, the chimes of a church clock or a general hubbub in a bar, Mynne's vocal sound effects work extremely well. In the scene where a steamer bears down on Magwitch and Compeyson, these vocals give a terrifying sense of the threat of the paddles driving relentlessly towards them. This unique version of Great Expectations - billed as 'deft, dark, delightful and definitely Dickens' - is both mesmerising and joyful, and I loved every second of it. Faultless.
Sue Cade: Wildfire - the daily critical review of the Exeter Ignite Festival

Directed by Simon Harvey, and written and performed by Kneehigh founder David Mynne (as Rabbit Theatre), Great Expectations takes great pleasure in the tale and the telling of it. Billed as 'deft, daft and definitely Dickens', this one-man show – staged downstairs at The Hour Glass pub – distils that door-stop of a novel into 90 minutes of pure storytelling. Mynne conjures each character through intonation, physical dexterity and a prop or two pulled from a battered suitcase; his face seems of the past, evoking landscapes, lifetimes, loss and love. A lace tablecloth becomes the bedspread under which Pip hides from fear-filled nightmares of Abel Magwitch; a sepia-tinged shawl conveys each lonely year of Miss Havisham's cherished bitterness. Physical gestures – a bite of the knuckle to summon Jaggers, a blank gaze into a small vanity mirror brings forth Estella – combined with vocal dexterity create a complete theatrical package; occasional meta-narrative devices adding a satisfying extra layer, and capturing the essence of Dickens' style. This is theatre at its most accessible, at its heart a performance that astounds and delights in equal measure.
Belinda Dillon: Exeunt Magazine

Dave Mynne is to Cornwall what Leonardo da Vinci was to Florence... he can do everything! Actor, designer, comedian, artist and fi rst class idiot - anything Dave touches promises to turn to glorious fools gold! Don't miss him under any circumstances!
Emma Rice: Joint Artistic Director, Kneehigh

Of all the many things Penzance-based, multi-talented Dave Mynne has ever done, from co-founding Kneehigh Theatre to playing the fiddle in the Golowan Band, he has never done anything bigger, bolder or better than this, his one-man adaptation of Charles Dickens' Great Expectations. Performing on a simple set, a table, chair and candle, plus a suitcase of other props, with the help of director Simon Harvey, he turns the pages of this epic novel in a masterful fashion that is mesmerising to come up with a piece of theatre which is as ingenious as it is intimate. Playing with absolute sincerity, he treats the book with respect and, although there are cuts, its essence, the core of this huge complex tale remains intact. After having been exposed to the Mynne treatment, even the most ardent Dickens fan will surely sleep easy in his or her bed. . .
Frank Ruhrmund: The Cornishman

This actor is unique. His craft of acting/miming/sound effects and emotion turned this great novel into a stunning performance. A packed village hall audience, of all ages, was mesmerised from start to fi nish as the main characters were presented and then interacted with each other. His talent for putting such excellence into his performance with no other support than a chair, a table, a suitcase and a minimum of small props was truly amazing - NOT TO BE MISSED
Audience member: Lelant Village Hall, Cornwall

Dave Mynne has achieved the apparently impossible in his one-man adaptation of this classic novel. He depicts a multitude of settings and Dickens' memorable characters with the creative use of minimal props. He is faithful to the story and spirit of the original. He shows a breathtaking palette of characterisation and range of delivery that is inventive, humorous, and compelling; sometimes comic, sometimes chilling, sometimes touching the heart. His show is always impressive and hugely enjoyable. An evening of magic.
Audience member: Praa Sands Village Hall, Cornwall

A tour de force. Amazing what you can do with almost nothing!

I can't believe the intensity of this solo performance. I feel exhausted but so worthwhile.

Great memories of John Mills, Bernard Miles & Finlay Currie!

What larks! Great Expectations and we weren't disappointed. Thanks for a super evening.

David Mynne's ability to change character using minimum props was astounding. Well done.
Audience member comments: Village Halls tour of Cumbria