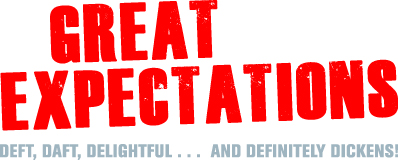 WILDFIRE Critics' Choice Award - Exeter Ignite Festival 2013
Nominated for BEST SHOW - What's On Cornwall Awards 2014
Great Expectations is a small-scale show, specifically designed for rural venues (village halls, pubs etc.) and small theatres. It is highly adaptable and totally self-contained. It can be performed in the smallest and most awkward performance spaces. It is literally 'out of a suitcase'.
Written by one of England's greatest authors, Charles Dickens, Great Expectations is the profound and complex story of Pip's journey through life.
Some of Dickens' most memorable characters – the terrifying Magwitch; Joe Gargery, the kind and generous blacksmith; the eccentric Miss Havisham; the cold and beautiful Estella; Mr Jaggers the pompous lawyer and Pip's wise friend, Herbert Pocket – are vividly brought to life in this anarchic and joyful telling of this glorious tale.
Using original text (well, mostly!) David Mynne's skilful, one-man performance of this epic story is deft, daft, delightful …and definitely Dickens!
Suitable for adults and accompanied children (10+)
Written by Charles Dickens and adapted by Andrew McPherson
Additional script by Simon Harvey and David Mynne
Directed by Simon Harvey
Performed by David Mynne
Booking enquiries, please contact Julie:
here
FOR SCHOOLS
The show is available to secondary schools (For students: Key Stage 3 - 5) along with a Great Expectations / Dickens workshop, if desired. The workshop can be tailored to your individual requirements and can be Drama or English led. Please get in touch if you would like to discuss availability and booking.
For school performance/workshop enquiries please email me:
here
Read a school performance review
here

I can't believe the intensity of this solo performance. I feel exhausted but so worthwhile.
Audience comment